Today we give onther Free calling method for android phone users.And main benifit of this the voice quality is amazing, when you talk you feel that you are talking normaly as you usually do. And caller see your number when recive call not company number.So you can use easily without telling any one that you are using app. Firstly Libon app gives you 60 minutes per month for free calling Per id untill july .when your 60 minutes over create new Id and again enjoy.You can try this method as much as you want. For using this Trick you have to download This app from Below link From your android phone.
• Download Libon Free Calling App [Android]
• Download Libon Free Calling App [Iphone]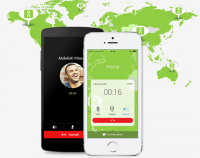 SO read some Official and Features of this app.


• Join LIBON Now
• Get 60 Free Minutes Per Month During 3 Months
• Call More Than 90 Countries: India, Asia, Europe, North and South America, Africa, and many more!
• Discover the 50 new destinations that you can call with Libon Out! Download the app to see more.
• Free chat with everyone! Really EVERYONE! Your contacts don't even have to be Libon members.
• Send instant messages, pictures, audio messages and so much more to all your contacts!
• In UK, some Vodafone subscriptions are not compatible with Libon.