Shopping Indiatimes With PayTm is Giving Some Jawdropping Offers.You will Get Rs 20 Cashback if You Pay Rs 10 With PayTm wallet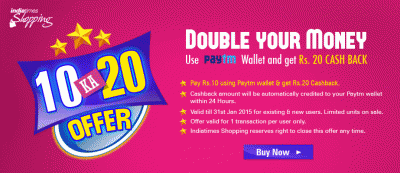 How to Get Rs 20 Cashback:
1. Go to this link -
http://bit.ly/indiatimesloot
2. Click on Buy Now & proceed to checkout
3. Enter your login details & continue
4. Choose Paytm Wallet as your payment method on checkout and click pay now
Note: 1. If it shows out of stock then again click on Paytm and Pay now.
2. If it shows that it cannot be shipped then use this pin code in address - 110001
5. Log in or Sign Up on the Paytm website.
6. Complete payment!
7. Wait for cashback amount to be automatically credited to your Paytm wallet.
Terms & Conditions:
- This offer is
valid till 31st Jan 2015.
Limited units on sale.
- Valid for both existing & new users.
- Indiatimes Shopping reserves right to close this offer any time.
- A customer can buy & use only one voucher.
- No refund for multiple purchases.
- Amount will be automatically credited in your Paytm wallet within 24 hours.
- Payment done by any payment mechanism other than Paytm wallet will be considered invalid & shall be cancelled.
- The refund of the same will be done within 72 Hours by Indiatimes Shopping.
- Any queries related to this Cashback Offer will be handled by Paytm support only.
- Kindly email at care@paytm.com or call 1800-1800-1234